14 Sep

Precision Medicine – in the dental office?

As an IOM patient, you know we focus on the impact of oral health on your overall health and strive to deliver personalized treatment plans with a total body health perspective. What you may not know is that we have elevated that level of service to include precision medicine elements – including salivary testing which reveals a tremendous amount of vital information to help further direct our treatment plan to your specific needs.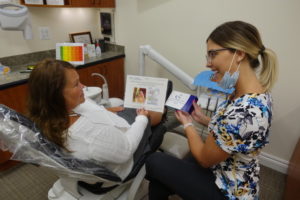 The value comes in by not only allowing us to properly diagnose your specific infection but also test for genetic susceptibility. A simple "swish and spit" test offers an easy and cost-effective diagnostic tool. Our team keeps up with the latest developments, as the days of cookie-cutter treatment plans are gone, and precision, data-based, personalized treatment is what patients should expect and deserve.
Precision medicine helps us get you healthy, and keep you healthy. That's the value: better, long-lasting outcomes – for optimal oral and overall health. Ask us if salivary diagnostics or any of the other expanded testing we offer is appropriate for you.