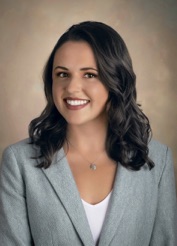 Dr. Chelsea Watkins grew up in Bloomfield Hills and is a long-time patient of Dr. Thompson's practice. Growing up in the practice, she developed a passion for dentistry at a young age and looked to Dr. Thompson as a mentor. Upon graduating from Lahser High School, she was accepted into an accelerated seven-year dental program at the University of Detroit Mercy, where she earned her Bachelor of Arts degree in Chemistry and her Doctorate of Dental Surgery. Dr. Watkins also received the Quintessence Award for excellence in Restorative Dentistry.
Throughout her education, Dr. Watkins was constantly looking for ways to enrich her educational experience. She made contributions to university research projects on genetics and sterilization, and was inducted into the National Jesuit Honors Society, Alpha Sigma Nu. Her involvement in the American Student Dental Association and Delta Sigma Delta, in addition to her academic success, granted her scholarships from these organizations. She also volunteered for a Mission Trip for the past two years to Guatemala, where she provided free dental care to the underserved population of Chichicastenango.
Dr. Watkins has had the opportunity to work in diverse clinical environments throughout Michigan. Dr. Watkins is excited to be in Bloomfield Hills serving the community in which she grew up. Her goal is to develop exceptional relationships with her patients. She strives to make patients feel safe, comfortable, and well cared for. Dr. Watkins looks forward to working alongside Dr. Thompson, Dr. Shah, and the rest of the team at Integrative Oral Medicine.