22 Feb

February Is Heart Health

During  Heart Health Month –We want you to "Know Your Numbers!"

The IOM team takes our role as part of your healthcare team seriously –knowing that conditions of the mouth affect conditions of the body. We are keenly aware of the overwhelming data connecting mouth-specific microbes to heart disease, diabetes and 46 other researched diseases.

These facts are why we offer expanded diagnostic testing looking for key indicators in oral and systemic diseases.  Our campaign for you to know key measurables and to identify your personal risk for several diseases is called "Know Your Numbers".

Why?  We want you to know your personal metrics in key areas of your health, to help you prevent and monitor improvement in disease management.  The good news: We are happy to help you!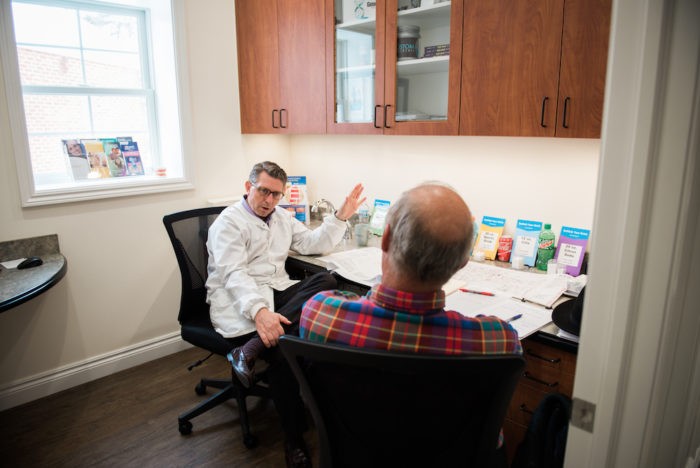 WHAT'S NEW?
We offer salivary diagnostic testing to quantify and qualify pathogens in your mouth for truly personalized diagnosis and treatment. We are also now offering on-site phlebotomy every Thursday so you can "Know Your Numbers" related to inflammation, heart disease, metabolics, and genetics. Dr. Thompson has facilitated access to these important and affordable ($135.00) tests via the Cleveland Heart Labs without having to go to your PCP.  Call our office to find out about availability.  Knowing where you are on your journey with vascular disease could prevent an unnecessary and costly heart attack or a stroke.
The IOM Difference – LEARNING LABS – We realize that helping guide patients to whole body health can take time outside the treatment rooms. An important feature in the IOM office redesign last year was the addition of two Learning Labs to facilitate the time and space necessary to have those deeper health education conversations. Additionally, it's an area where patients can participate in our "Know Your Numbers" campaign by checking their blood pressure, their random glucose blood level with an over-the-counter glucometer, and discover more.
We are helping patients take control of their healthcare with data, awareness, and collaboration with the patient's medical team. Dr. Thompson and his team are teaching clinicians around the world to do the same – but you have it right here in your backyard! Integrative Oral Medicine – it's not just the name of our practice it is what we do.  Come in and discover all that the IOM team has to offer.