28 Jan

January 2020 Health Beyond the Mouth Event Recap
At our Health Beyond the Mouth event on January 10 guests heard from top medical experts on how to live a healthier and happier life.
On January 10, the Integrative Oral Medicine team and other partner physicians welcomed guests for an interactive morning discussing health, wellness and healthy living.
Guest speakers included "America's Heart Healthy Doc", cardiologist Dr. Joel Kahn and Integrative Medicine Physician, Dr. Maureen Anderson.
Take a look at our photos below and be sure to stay tuned for our upcoming wellness events throughout the year.
Our own Dr. Doug Thompson and Dr. Sharvil Shah of Integrative Oral Medicine greet guests.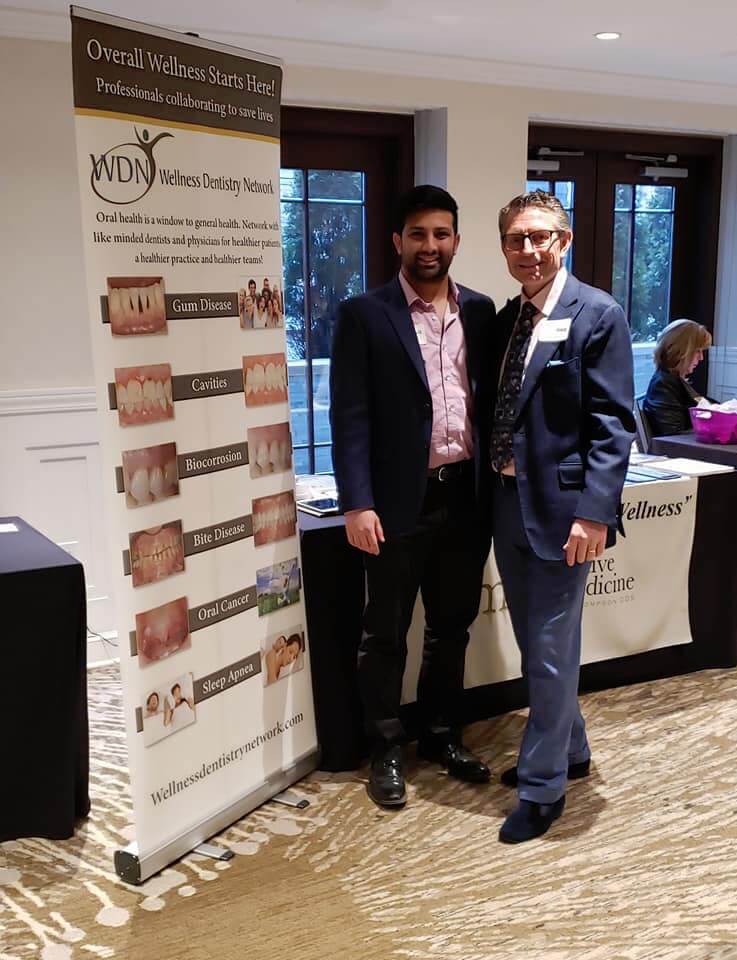 The IOM team can talk to you about a variety of total body health issues. New in 2020 we will be able to work with you utilizing an evidence-based weight loss and healthy habits system. Ask us more about it on your next visit!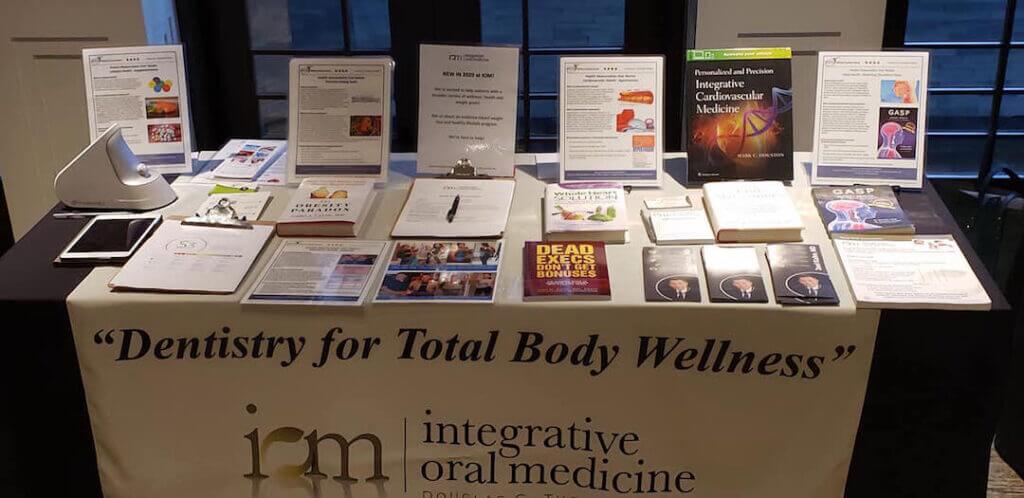 Dr. Alicia Williams, another Wellness Dentistry Network member physician, receives a signed copy of the Cardiovascular textbook Dr. Thompson contributed a chapter to.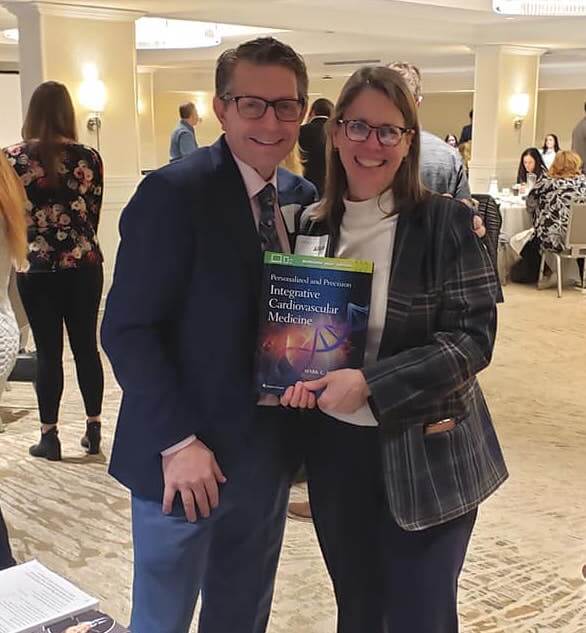 Guests were able to register and receive special carotid scanning at the event. Carotid Intima-Media Thickness testing is a non-invasive ultrasound that helps determine if your arteries are aging faster than you are.  Here, Dr. Kahn explains what it is, and why it's an important test for early heart disease detection. He also talked about the importance of collaborative care between dental and medical teams.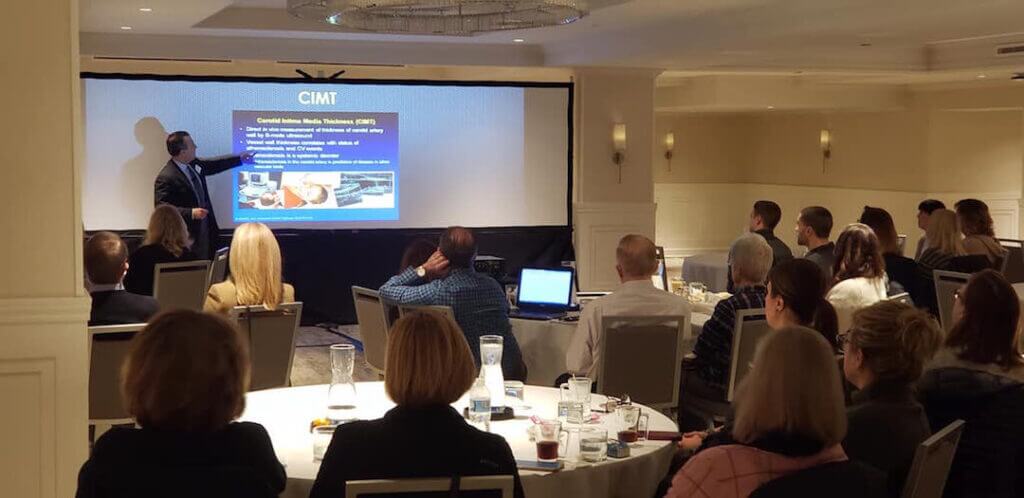 Dr. Maureen Anderson, a functional medicine doctor talks about brain health and dementia, and how your diet plays a critical role.
"Mindful" Namaste frog in the lobby – perfect for our wellness day!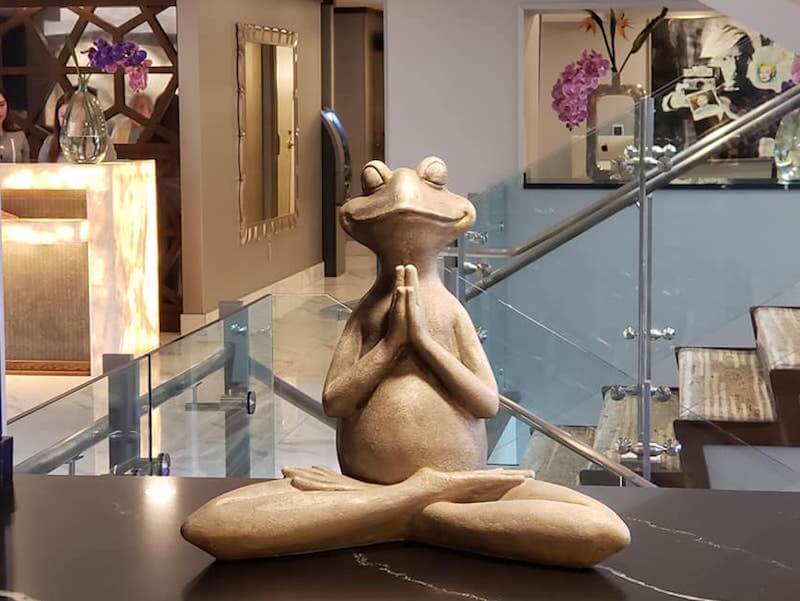 Special thank you to all of our partner dental practices:
Edward Borio, DDS
Faircourt Dental Smile Studio – Dr. May Sue Stonisch
Hartrick Dentistry – Dr. Nancy Hartrick
Legacy Dental Group – Dr. Jeff Grabiel, Dr. John Mills & Dr. Raymond Kim